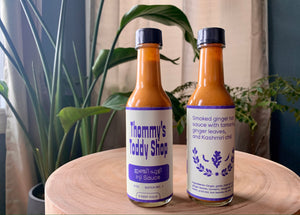 *Not eligible for nationwide shipping through our website but available for local pick up and delivery through Superkhana International.*
For this sauce, I took inspiration from one of my favorite Keralan accompaniments called Inji Puli, which literally translates to ginger-tamarind. We stayed true to its roots but added our own spin to make this delicious, tangy, gingery sauce.


To make this, we smoke tamarind water using apple wood chips, then fry and purée fresh ginger, and finish with a classic tadka of garlic, cumin, urad dal and Kari leaves.

Inji Sauce is a versatile gingery hot sauce that goes great with a variety of foods, like BBQ, eggs, chicken and rice, pizza, and more.